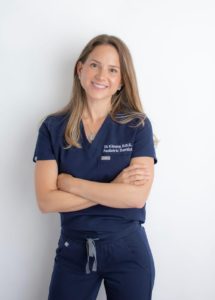 Dr. Kimmy
Dr. Kimmy is a board certified pediatric dentist. Dr. Kimmy graduated from New York University (NYU) with a Bachelor of Science degree in Anthropology and Chemistry. She then received her Doctorate of Dental Surgery (DDS) degree from Columbia University College of Dental Medicine. During her training, Dr. Kimmy found that she had a passion for working with children and making their dental experience a positive one. She went on to a two year post-graduate program in Pediatric Dentistry at the highly competitive Stony Brook University School of Dental Medicine. Dr. Kimmy gained extensive clinical experience with emergency treatment, full mouth oral rehabilitation, oral and IV sedation cases, as well as working with special needs patients.
Upon completion of dental school, Dr. Kimmy was invited into the National Dental Honor Society, Omicron Kappa Epsilon (OKU). This honor distinguishes students who exhibit excellence in their studies, while also demonstrating exemplary traits of character. Her research on bisphosphonates was published in the Journal of Oral and Maxillofacial Surgery and earned the first-place American Dental Association/Dentsply Research Award.
Dr. Kimmy is a board certified pediatric dentist, and continues to further her education through multiple professional organizations. She is an active member of the American Association of Pediatric Dentistry (AAPD) and the American Dental Association (ADA).
Dr. Kimmy believes it is extremely important to always give back to your community. She volunteers to travel to schools and camps to educate children on healthy lifestyles and proper oral hygiene habits. She participates in community wide events, and is always there to lend a hand!
When Dr. Kimmy is not treating patients, she is spending time with her family – her husband, Ben and their 3 adorable children, Emma, Abey, and Alex. She enjoys spending time with her friends and family, working out, and creating a healthy lifestyle.
We are looking forward to meeting you at your first visit and can't wait to welcome you to our dental home!
---